Every year on St. Patrick's Day it's almost a tradition to watch
QVC's St. Patrick's Day all day special.
I've adored all things Irish for many years and I love seeing all the new jewelry, clothing, knick knacks, and fragrances all made in Ireland. I usually find myself falling in love and buying something but I didn't this year. Today, my mom called for me and handed me a box, inside the box was a 5 piece Inis Fragrance collection. She had secretly ordered it for me!
Each fragrance represents a different place, time of day, and feeling of Ireland. They can be worn alone or mixed together. We immediately started spraying ourselves and each other with each scent. Each one we liked more than the next. They all had beautiful and different light scents. I especially loved the notation about each one. If you like light clean scents or any of the philosophy fragrances I recommend trying these!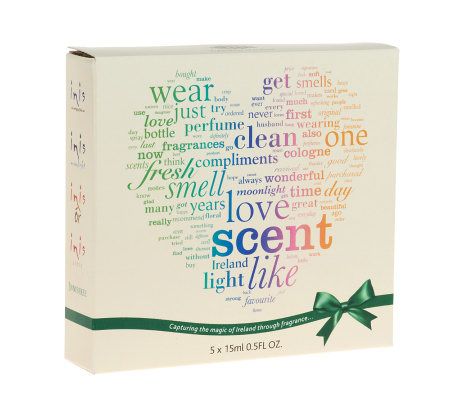 Inis Energy of the Sea
"Fresh" "Clean" "Love" just some of the words to describe Inis the energy of the sea. Inspired by a summer day at Roundstone beach on the Ireland's west coast, Inis captures the energy and magic of the ocean, transporting you there with top notes of lemon, neroli, lily of the valley and sandalwood.
Inis Moonlight
'Light' 'Original' 'Feminine' Inis Moonlight is all this and so much more - fresh eau de parfum which can be layered with Inis the energy of the sea. Inis Moonlight has the freshness of Inis but is deeper and softer. Notes of mandarin layered with a watery accord, peach and sandalwood create a fragrance likened to a gossamer shawl -warm, weightless, and magical.
Inis Or
'Distinctive' 'Subtle' 'Complex' Inis Or takes its name from gaelic and means 'golden island'. Intense top notes of blood orange and mandarin are blended with the 'breath of the sea' to give a burst of energized freshness to the wearer. Heart notes of mimosa and laurel add vitality while the base notes of pink peppercorn and sandalwood add a rich warmth and depth.
Inis Arose
'Beautiful' 'Light' 'Fresh' Inis Arose takes inspiration from the mythical legned of the Goddess of Love's arrival onton land and being showered with rose petals. THe layering of five different rose varieties including May and Damask roses with apple blossom, pink geranium and lily of the valley allows Inis Arose to be a full bodied floral without ever losing its spring freshness.
Innisfree
- The Essence of Ireland 'Love' 'Floral' 'Romantic' A true classic, innisfree is an eau de parfum full of old world charm, inspired by the works of W.B. Yeats and his lvoe of Ireland. Innisfree transports you to an irish garden in full bloom. Rich floral notes of lily of the valley, lavender, jasmine, rose, and iris are the essence of this romantic floral.
You can find the collection
here.