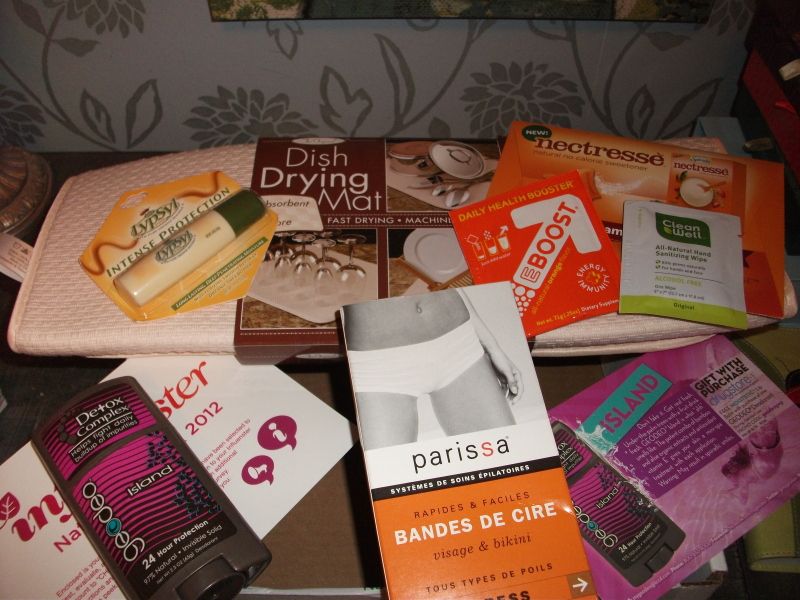 As per receiving the "Mom voxbox" last month and completing all brand challenges, I was automatically chosen to receive a future voxbox shipment.
In the naturals voxbox I received:
The Original Dish Drying Mat $4.99
Lypsyl Intense LypMoisturizer $2.87
Eboost sample drink powder $28 for box of 20
CleanWell Hand Sanitizer Wipes $29.99 for 50
GeoDeo natural Deodorant $5.99
Nectresse sweetner by Splenda $3.99 for 40
Parissa Wax Strips $9.00
_____
According to the Influenster product card, Influensters were sent different items depending on their demographics. I was really looking forward to trying the "Country Life Maxi Hair" vitamins but instead I received the "Parissa Wax Strips".
*Based on demographics Influensters received ONE of the following:
Parissa Wax Strips $9.00
Country Life Maxi Hair Maimized Vitamins $17.99 for 60 tablets
Desert Essence Coconut Lotion $9.99
SheaMoistur Raw Shea Argon Baby Bar Soap $4.99
*Influenster boxes now have Delivery Confirmation/Tracking. I wasn't home when the postman tried to deliver it and was left a "come pick up at post office" slip.
**I was sent these products complimentary from Influenster to test, evaluate, and recommend.